Appliance Artisan is a local, family-run company that has been helping Coloradans for over a decade. Our team of plainspoken, honest repair workers is ready and able to assist you with your appliance repair or maintenance needs.
---
What sets us apart: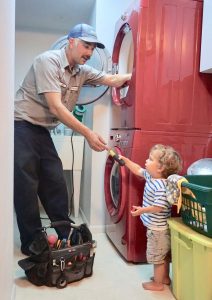 Locally sourced parts. We get most of our parts from Appliance Parts Depot, which means that we get what you need quickly while supporting our local business community.
Wide service area. We help local and not-quite-so-local residents. Chances are we can come to you!
No pushy sales. We don't push our services on people who don't need them. We present the most cost-effective options to solve your problem, and if you need to replace your appliance, we'll help you get the most out of your next appliance investment.
Knowledgeable, experienced team. Our technicians are well-versed in the proper care of all common home appliances. We don't just fix appliances, we provide helpful user information.
90-day guarantee. Our goal is to "get it right the first time," and we back that up with a 90-day guarantee on both the parts and our work.
Honest and reliable. We go above and beyond fixing appliances. Our small, family-focused company is dedicated to being personable, honest and skilled in our trade.